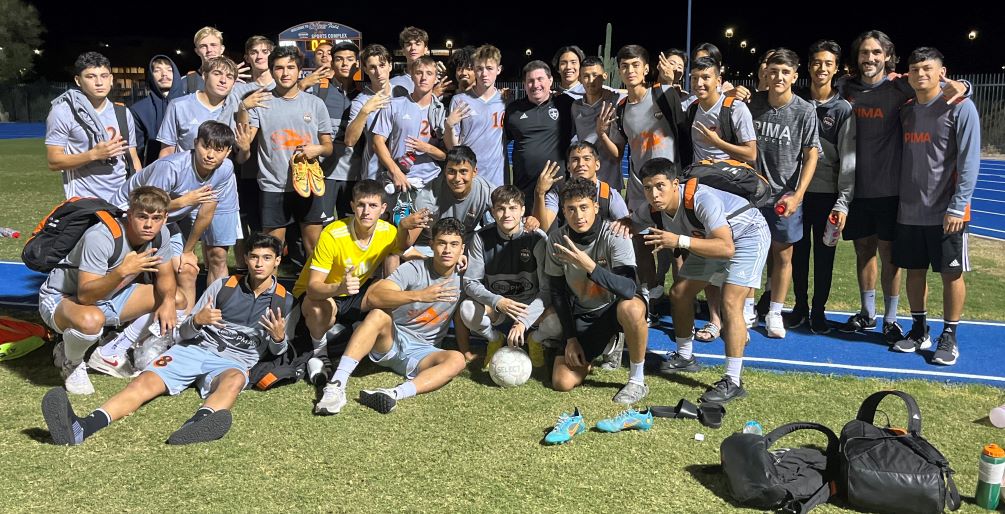 The Pima Community College men's soccer team (9-1-2, 6-1-2 in ACCAC) gutted out a win in its final regular season home game on Tuesday at the West Campus Aztec Field part of the Chapman Automotive Sports Complex.
The No. 5 ranked Aztecs defeated Paradise Valley Community College 1-0 in double overtime. Freshman Junyoung Hwang hit his shot inside the box after fellow freshman Aiden Oliver's (North HS) cross pass in the 107th minute (3:51 left).
The Aztecs created chances during the game but couldn't score as they had three shots that hit the crossbar.
Freshman Cristian Sattin finished with four saves.
The win gave head coach David Cosgrove his 400th career victory at Pima. He is in his 26th season as head coach and has an overall record o
The Aztecs will conclude the regular season on Tuesday, Oct. 18 when they play at Arizona Western College. Game time is set for 4:30 p.m.
Pima goal: Junyoung Hwang (Aiden Oliver) 107th minute.
SCORING SUMMARY
OT2 – 107:00 – Junyoung Hwang (Pima Community College)
GAME LEADERS
PARADISE VALLEY COMMUNITY COLLEGE
G: N/A
A: N/A
Sh: Team – 4
Sv: Jaden Thomas – 5
PIMA COMMUNITY COLLEGE
G: Junyoung Hwang – 1
A: Aiden Oliver – 1
Sh: Team – 9
Sv: Cristian Sattin – 4