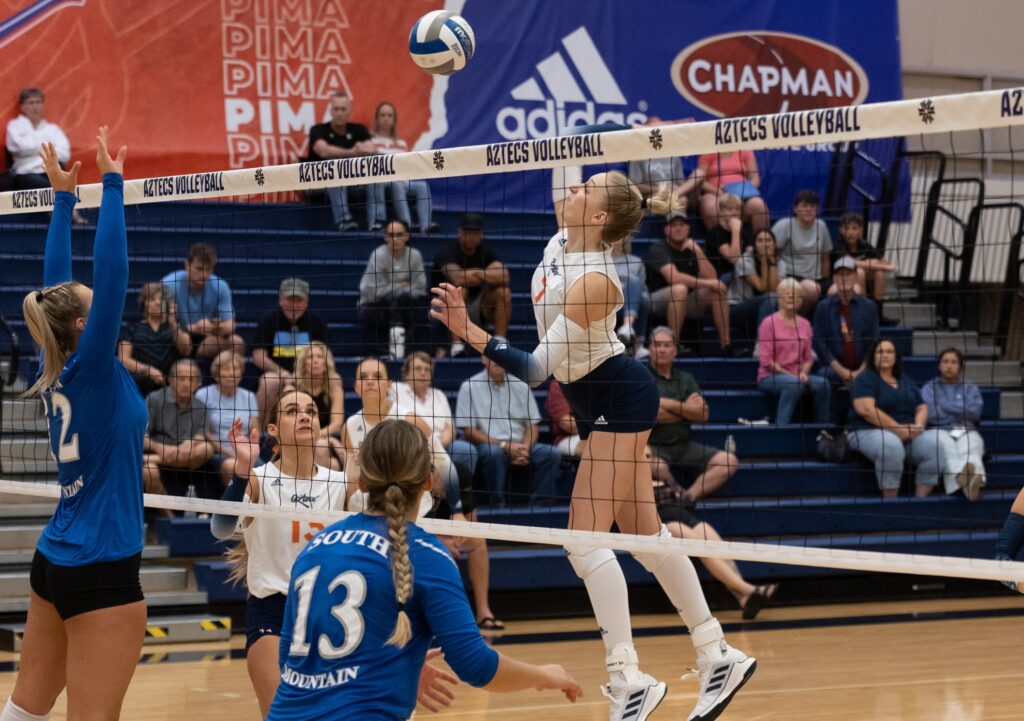 Sophomore Haley Duncan (Walden Grove HS) finished with a team-high eight kills to go along with two blocks but the Aztecs volleyball team fell in straight sets at No. 8 Chandler-Gilbert Community College 25-11, 25-13, 25-14. The Aztecs are now 5-15 overall and 2-8 in ACCAC conference play.
The Pima Community College volleyball team (5-15, 2-8 in ACCAC) played an ACCAC conference match at No. 8 ranked Chandler-Gilbert Community College (11-4, 9-2) on Wednesday.
The Aztecs fell in straight sets to the Coyotes 25-11, 25-13, 25-14.
The Aztecs struggled to gain momentum as they scored back-to-back on one occasion as the Coyotes gradually pulled away to take the first set.
Pima trailed 10-5 in the second set but scored three of the next four points to close in. Sophomore Isabel Hansen (Rincon HS) had a block at the net and the Aztecs trailed by three points at 11-8. The Coyotes went on to score the six points to take a 17-8 advantage. Sophomore Haley Duncan's (Walden Grove HS) kill made it 17-10 but the Aztecs couldn't get any closer as they trailed 2-0 in the match.
The Aztecs tied it early in the third set with a kill by Duncan but the Aztecs could not overtake the lead. Pima trailed 17-12 and the Coyotes closed out the match by scoring eight of the final 10 points.
Sophomore Isabella Jacome finished the match with her seventh double-double of the season with 17 assists and 10 digs.
Haley Duncan (Walden Grove HS) closed it out with a team-high eight kills along with two blocks. Fellow sophomore Jessica Bright-Schade (Safford HS) had five kills and eight digs.
Freshman Morgan Hains (Canyon del Oro HS) finished with 18 digs and one ace. Sophomore Madi Wilson (Tanque Verde HS) posted seven digs and sophomore Isabel Hansen (Rincon HS) had four blocks.
The Aztecs will play at Eastern Arizona College on Friday in Thatcher. First volley is set for 7:00 p.m.