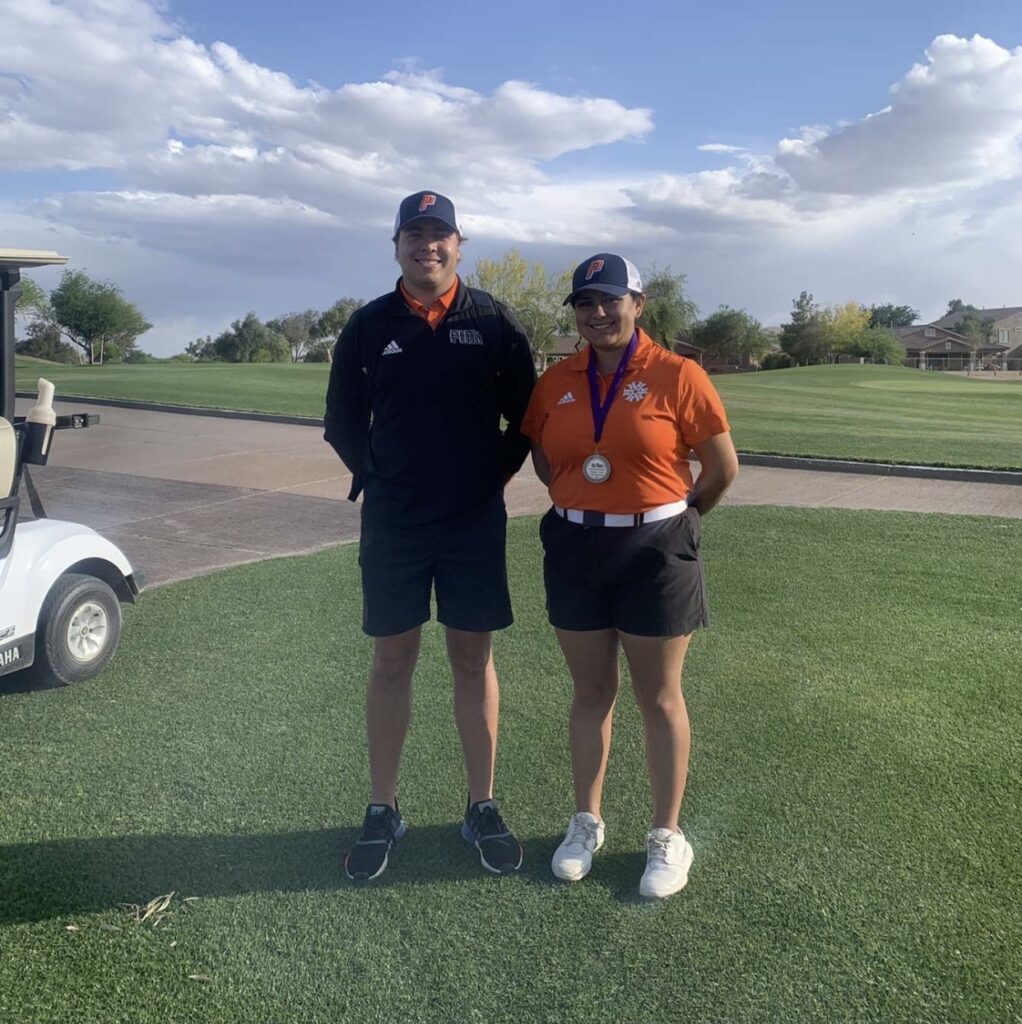 By CARLOS MIRANDA
Pima Post
Last season, the women's golf team only had one girl on the team: Victoria Peña.
This season, there are six, including Peña.
Peña, 20, has been playing golf half her life.
Her best score in 18 holes of golf is an 80. She discussed how she has yet to get an ace (hole in one), although she has been close to making one.
The Pima Community College women's golf team pre-season is coming up in November and the regular season starts in the spring.
When she was the only woman on the team, Peña had a good season.
"Being the only girl last season was actually really fun and it helped me learn a lot," said Peña, who wants to be a veterinary technician. "I ended up practicing with the guy's team, so they always pushed me to do better and helped me with anything I needed. It gave me an extra push to get better, because I wanted to be at the skill level that they were at."
Peña tries to put in 15 hours a week of practice, although it may be longer or shorter depending on the week.
Peña's favorite course to play is The Highlands in Marana. She said it's beautiful there and it's always in good shape.
Her favorite golf pro is Tony Finau, who currently plays on the PGA tour.
"He is very consistent with his game and is able to keep a good mentality through pressure situations," she said. "He also continues to push through anything that comes his way out there on the course."
Marcus Smith is the coach for the Pima women and men's teams. Smith said that Peña had a really successful first year season.
"I am looking forward to competing with our team as a whole," Smith said. "We have six girls that are hungry and have put in a tremendous amount of work this off-season.
"My best advice I can give to the girls this season is to stay true to themselves," he added. "Ease is a greater threat to progress than hardship. Our standard for the program is high and every day we come in to do our jobs in order to exceed that standard.
"This is a long journey, it's a process and every day we've got to get better."
Peña qualified for the national tournament in Ormond Beach, Florida, in the previous season.
"Participating in the national tournament was something I never thought I would get the chance to do," she said. "Being able to meet and compete with golfers from all over the country was very new to me since I have never been in a big tournament like that, so it was very different but very exciting.
"Overall, in a way I felt like I accomplished a lot because a lot of athletes' goals is to be able to say they went to a national tournament, and now I will be able to say that."
Peña discussed her mental game. She said if you let bad shots get in your head it can mess up your whole game. She admitted that she sometimes lets bad shots get the best of her, but believes that having a better mindset may result in better scores.
Peña is happy that there are more girls this season as well. She mentioned that the team learns from each other and pushes each other every day to do the best they can.
"I am looking forward to competing with all the girls this season since it wasn't something I got to do last year," she said. "We are all so close already. I'm excited that we can compete as a team and try to make it to the national tournament together.
"I am ready to go out there as a team and give it everything we have every day when we are out on the course and in tournaments."