By PARKER BROCK 
Pima Community College Governing Board approved to revise current standing policies to convert the college to a tobacco-free campus on March 22 and subsequently April 11.
The governing board uses two policies, administrative policy 8.07.01 and board policy 8.07, to accomplish its goal of a tobacco-free campus. The main policy detailing the usage or restrictions is AP 8.07.01, which will be the primary policy in reference
The policy prohibits smoking or the use of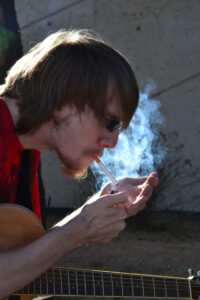 products on college grounds including all college property, all college-sponsored events, all college owned vehicles and all personal vehicles when operated or parked on college property.
However, while the policy aims to make PCC smoke-free, it lacks any form of direct enforcement and doesn't incentivise current smokers to quit. 
"Really any college employee has the ability to enforce policy," said Michelle D. Nieuwenhuis, operation commander for PCC Police Department. "The only thing we will and can do is refer them to HR, and HR can work with them." 
Under the new policy, smoking is "the purposeful inhaling, exhaling, burning, carrying or possession of any lit or heated tobacco product, e-liquid, dried herbal or other plant material, or similar product by any means, including, but not limited to, through the use of cigarettes, cigars, pipes, e-cigarettes (i.e."vaping") or hookahs."
The wording in the policy takes a more restrictive tone compared to former smoking policies, which allowed designated smoking areas and didn't restrict e-cigarette usage.
The stricter restrictions do forbid smoking inside personal vehicles while parked on Pima property. These restrictions, however, are likely to be rarely enforced. 
"Technically, it would be a violation of the policy, so they could enforce it," Nieuwenhuis said.
Anthony Neumayer is a student at Pima, and was unaware of the details of the new policy.
"Since I am a smoker, both e-cigarette and traditional tobacco, it's a bummer," he said. "It's not fun but it's safer for students with asthma and breathing conditions."
The board stated its reasoning. 
"The college is dedicated to providing and promoting a healthy, clean and productive environment for students, employees, visitors and all members of the college community," according to the policy. 
Their reasoning points to the well-documented findings of the negative health effects of tobacco use and secondhand smoke.
 However, scientific evidence regarding the human health effects of e-cigarettes is limited, according to a study in the U.S. National Library of Medicine done in May 2014. The health impact of e-cigarettes, for users and the public, cannot be determined with currently available data, according to the study.
The restrictions, however, don't apply to the use of stop-smoking aids such as nicotine gum, lozenges or patches.
You may also seek written approval from the chancellor in order to use tobacco products for research, instructional use or cultural or religious activities.
All Pima students, faculty, volunteers and visitors must comply with the new policy or face disciplinary action or removal from college property.
After the governing board enacted these policies, the college was awarded a grant called the "Tobacco-Free PCC Program" funded by the Truth Initiative. 
The Truth Initiative is a non-profit organization known for its youth advocacy programs aimed to educate on the dangers of tobacco and nicotine products.
 The "Truth Grant" awarded Pima $20,000 over a performance period starting Aug. 15 and running through June 30, 2020. These funds are to be used for hiring interns to promote a smoke-free campus and for educational and promotional items.
The grant, however, requires cost-sharing, meaning Pima must commit funds to provide assurances they will support the promise of the grant.
The Board of Governors estimates that Pima vice president, project director, grants office staff and business office will need to provide an amount of work equal to $9,958 in total salary.
Additionaly, the board also made a capital request of $35,000 in order to "revise all signage and removed designated smoking areas and ashtrays," according to the PCC governing board agenda.
This means Pima will be spending far more capital on implementing this policy initiative than being earned from the grant; spending these funds on policies while also cutting funding to programs like football.
With all the money and effort being spent on creating a smoke-free campus, some people said it does seem to be effective at reducing the amount of smokers on campus.
"I think there are people who will who aren't in a congested policy area, I think there are people aware of it, doing it places not close proximity to others like walking from their cars to the building," Nieuwenhuis said. "As far as near campus buildings, I think that's where we have seen a serious reduction."