By: DANIEL VELASCO
Pima's Archaeology Centre is a long standing institution that has helped students gain the necessary skills needed to become an archaeologist.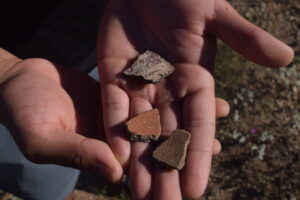 "The Archaeology Centre is a facility with faculty, staff and equipment to support the education and training of archaeology students in field methods. Students learn to locate, map, document, and excavate real archaeological sites," Says Mary Prasciunas, Director of the Archaeology Centre.
What's unique about the Archaeology Centre is that the classes offered differ in format from other anthropology based classes offered at Pima.
"It's different from what you get in a classroom setting. We teach people hands-on field skills as they transition into becoming actual archaeologists. That's why we have students coming to us who already have bachelors and masters degrees. Often we find students who have degrees
but don't actually know how to dig," Tineke Van Zandt, Anthropology/Archaeology Department Head said.
Pima's Archaeology Centre has conducted over 220 field and research projects in Arizona and in Sudan, Egypt, Hawaii, Brazil, Peru and France. The Archaeology Centre provides some impressive student opportunities.
"Students themselves participate in a wide variety of field and research projects through the Centre for Archaeological Field Training. Our Community Partnership Program provides students with unique opportunities to engage in archaeological projects with entities such as local businesses, state and federal agencies, academic institutions, and other researchers. Most of our current projects are local, but we are also conducting ongoing international fieldwork in Egypt and Sudan. At the 2019 Society for American Archaeology meetings, students will be presenting on the field and research projects they have been involved with through the Archaeology Centre. These projects are both local and international in scope, and include the results of archaeological survey, artifact analyses, excavation, and geospatial mapping projects," Prasciunas said.
The Archaeology Centre is a world renowned resource in the field, and as far opportunities go, its students go on to do great things.
"A lot of our students work full time as archaeologists with many different employers such as the
National Park Service, Bureau of Land Management, tribes, etc. and we've had a lot of people go on to get Masters and PhDs. The people involved are the ones who give us our diverse perspectives," Van Zandt said. The Archaeology Centre is providing a new opportunity for current students to present research at the Society for American Archaeology (SAA) annual conference in Albuquerque New Mexico. The SAA is an 84 year old international organization that's heavily involved in "research,
interpretation and the protection of archaeological heritage of the Americas." With over 7,500 members, they've worked extensively with government agencies, museums and in the Classroom.
"Pima faculty and staff have been members of the organization for decades. …. Our students also have a unique opportunity to participate and present the results of their research at the largest archaeology conference in the country at the beginning stages of their careers," Prasciunas said.
While this isn't the first time the Archaeology Centre has been involved with the SAA, involvement with such a big conference is a big step for Pima's archaeology students.
"Attending and presenting research at the annual Society for American Archaeology meeting is a great opportunity for PCC archaeology students! Students will get to see first-hand how professional conferences are organized, and how papers and posters are presented in a professional setting. They will gain experience presenting their own research-based posters, which will help them prepare for their future careers as professional archaeologists. They will have an opportunity to share their original research with a community of interested students and professional researchers from across the country. Finally, they will get to experience 5 days of exciting presentations on a diverse array of archaeological research topics," Prasciunas said.
The lessons learned from this year's conference can still benefit Pima's Archaeology students in many ways.
"Field and research projects are initially offered through the archaeology field classes, often as supplemental opportunities designed to enhance student learning. Community partners seek out our students to assist in their research projects, giving students an opportunity for additional hands-on training outside a formal classroom environment. Students can then continue to incorporate their research projects into additional archaeology classes they are taking," Prasciunas said.
If you're a student who wants to become more involved in the field of archaeology. 
"Our field classes are open to everyone with an interest in archaeology. Whether you are a complete beginner, or you already have archaeological experience, everyone is welcome. Come take a field class this spring and see how fun archaeology can be!" Prasciunas said.
"We've had students come from all over the country just to study archaeology here. We've had students from all ages ranging from highschool age to late 70's," said Van Zandt.
Pima's offering plenty of archaeology courses in the spring ranging from different topics such as ARC180: Artifact Identification ARC 276: Archaeological Surveying 1, ARC 181: Global Positioning Systems Basics as well the many different topics present in the field of Archaeology. Students that are not currently enrolled in any archaeology courses can still get involved in the
Archaeology club at: [email protected]
Here are some of the topics being presented at the 2019 SFAA Conference by Pima Students:
Kyle Eckerstrom and Emiliano Walker
The Point of the Project: Analysis of Projectile Point Data in the Burro Creek/Pine Creek
Wilderness.
Stephanie Egurrola
Land Use in the Burro Creek-Pine Creek Survey Area based on Ceramic Analysis
Margaret Fye and Wolfgang Whitney-Hul
Twentynine Wash Excavations and Collaboration: AZ BB: 5:127(ASM)
Joe Garcia-Fox and Jesse A. M. Ballenger
Prehistoric Land Use in the Upper San Simon Valley and Chiricahua Mountains: A View from the Finley and Sally Richards Projectile Point Collection
Daniel Montoya and Helen L. O'Brien
From on the Field to the Lab: Challenges and Successes of Mapping Royal Tombs and a Newly Discovered Mound Features Using a Total Station at Nuri, Sudan
John Pearson and Ashley D'elia
A Look at the Artifact Assemblage from the Dairy Site
Rebekah Thimlar and Lea Mason-Kohlmeyer
The National Register of Historic Places and a Stations of the Cross – Eligible?
Emiliano DeLa Rosa Walker, Christian Mathews and Jeffrey T. Jones
Pima Community College Excavation at the Dairy Site AZ AA:12:285 (ASM)