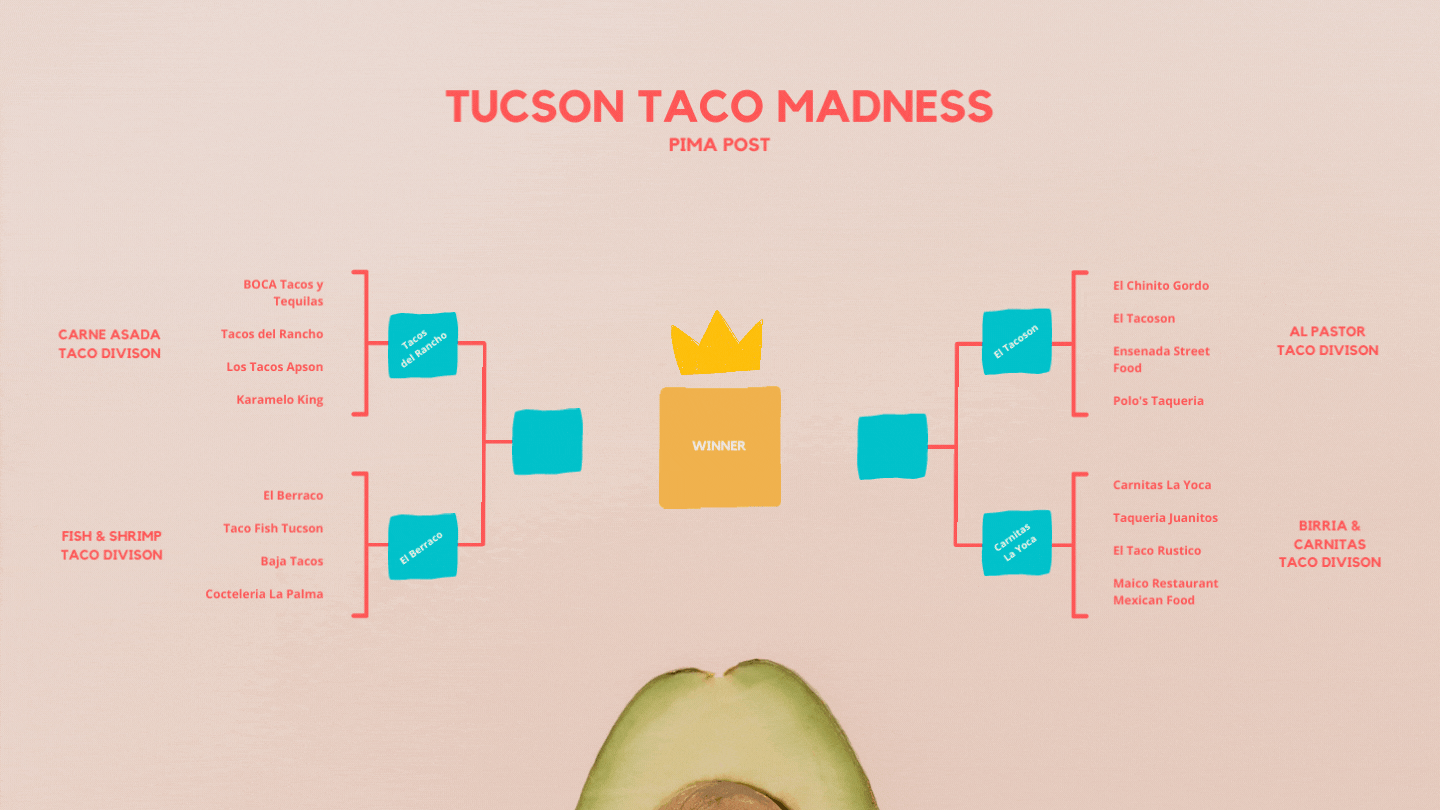 By JAVIER DOSAMANTES
Pima Post
The table was set, and the winners of each division went against each other to compete for their respective conference titles, and advance to the tournament finals.
Every taco had to step up against competition that was outside its comfort zone. We saw differing styles within divisions in the last round, but this round was a clash of completely different styles of play.
All tacos had to adapt and make the necessary adjustments to come out with a win.
A battle ensued between traditional and contemporary in the North Conference. An iconic style of taco versus a new style of taco that has been steadily gaining popularity — and one day perhaps will reach icon status.
And in the South Central Conference, we witnessed an all-out prizefight between two legendary pork-centered styles of tacos — each with a different approach to the game.
Tacos del Rancho from the Carne Asada Division went against El Berraco from the Fish and Shrimp Division for supremacy in the North Conference.
On the other side of the bracket, the South Central Conference crown was disputed between El Tacoson from the Al Pastor Division and Carnitas La Yoca from the Birria and Carnitas Division.
All eyes and the bright lights were on these final four tacos, and as we inched closer to the title match, scoring was more scrutinizing for the remaining tacos in the tournament.
It's time to find out what Tucson taco had what it takes to come out of its conference and punch a ticket for a chance at the title of the 2022 Tucson Taco Tournament.
South Central Conference
El Tacoson (al pastor taco) vs. Carnitas La Yoca (carnitas taco)
There are some similarities between an al pastor taco and a carnitas taco. Both of these programs ground their protein game in pork and use corn tortillas.
When the tacos were served, however, we were able to see how they matched up against each other — and their distinct approaches to the game were clear.
An al pastor taco's pork meat is marinated with an "adobo" made with a mix of dried chiles and spices. It is layered in slabs on a vertical sword called el trompo and it is braised until tender and juicy.
Pork meat for a carnitas taco, on the other hand, is made by throwing it into hot oil or lard until it is tender on the inside and golden crisp on the outside.
A commonality between styles might be the corn tortilla. It must be soft and strong enough to hold everything together. At the same time, it can't mask the meat flavor, but without compromising its own flavor.
The "powers" (veggie toppings and salsas) may appear very similar on the surface. But they are where both of these styles separate themselves from each other — and were one of the deciding factors for these two great competitors.
Powers for al pastor and carnitas tacos should always include chopped cilantro and onion, lime, a red salsa, a spicier red salsa and green salsa.
But this is where the complexity of each taco's game changes outside of the protein flavor. As essential toppings, one uses pickled jalapeños and carrots and the other uses pineapple.
Carnitas tacos should feature pickled jalapeños and carrots as toppings to give the taco a jolt of flavor. It subtly contrasts the saltiness of the pork.
An al pastor taco needs pineapple to enhance the adobo's flavor with a punch of acidity and sweetness.
Carnitas La Yoca had a solid plan for its salsa bar. It featured all the fundamentals of what a carnitas taco needs. Still, the flavor couldn't match up against El Tacoson's salsas.
La Yoca came out with an overwhelmingly great protein game to counter this. And the carnitas this taco displayed were executed to perfection — tender and juicy with a golden crisped outside.
It was an effective and clean protein showing for these carnitas. It didn't make the mistake of being over greasy or over salty … it was sublime.
El Tacoson's al pastor meat was tasting great at the start of the taco, but as the game went on, pieces of the meat were left in isolation and the taste was struggling to hold on.
Thankfully for Tacoson, its tortilla was full of flavor and determination. It didn't break and its flavor wasn't compromised for other layers of its game.
Coupled with an equally well-executed salsa strategy, El Tacoson was able to overcome Carnitas La Yoca's all-time carnitas.
If Carnitas La Yoca would've been able to execute its tortilla and powers game plan as well as Tacoson, it had the potential of being on the level of Kareem Abdul Jabbar circa 1967 (when he took an undefeated UCLA Bruins team to the championship).
Sports history is full of ifs and what-ifs, but the scoreboard is the final word. And wins and losses are all we remember.
El Tacoson was able to win this round with a complete effort, and it will advance to the finals as the South Central Conference champion. It will have to conjure up taco magic once more if it wants to cement its place in taco glory.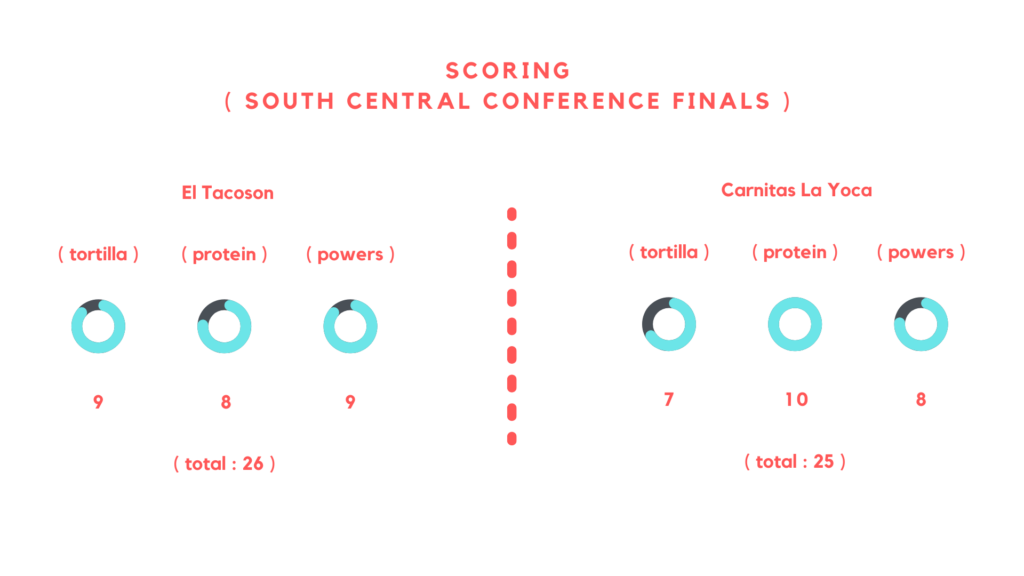 North Conference
Tacos el Rancho (carne asada taco) vs. El Berraco (fish taco)
The North Conference once was dominated by traditional taco powerhouses in Tucson. But its reign now belongs to an up-and-coming taco program.
Both tacos played like they were looking to become part of Tucson's storied taco history.
The struggle between classic and contemporary was the essence of this matchup. Carne asada tacos have been a cultural tradition and icon for ages — with roots in rustic minimalism.
On the other hand, fish tacos only have been around since the 1960s. They reflect their Baja/surfer roots with a loud and colorful style that's been spreading throughout the world.
A carne asada taco is a simple taco. So, technique and ingredient quality are key. The meat (diezmillo or arrachera) has to be elite and prepared with just salt. Flour tortillas are the only tortillas that this taco should use.
Powers for the carne asada taco can have added wrinkles but always need to feature: cabbage, red and green salsas, lime, pickled red onions and "aguamole" (avocado salsa).
Grilling the cut of meat is where strategies might differ, but the end result always must be juicy with subtle grill marks to add a smokey hint.
Carne asada is emblematic of Sonora, a livestock farming and agricultural state.
This minimalism in preparation reflects the rustic lifestyle of the past, on which the state's economy was built.
Grilling meat out on the range and throwing it into a tortilla, with only a few vegetables to use creatively as toppings remain the essence of every carne asada.
There are various versions of how the fish taco came to be. It is only universally agreed that it originated from the Bajas.
A prevailing folk tale is that it was born in a seafood black market in the '60s.
To mask what kind of fish was used, people started breading the filets and conspicuously served them in tacos.
These tacos are the newest iteration of tacos in the tournament. Yet, their novelty has caught on in many states of Mexico and the world.
They have become synonymous with the Baja surfer culture and morphed into a breakfast or lunch taco in many places.
Fish and shrimp tacos are loud and full of color. The deep-fried protein can be beer-battered, panko-fried or any technique the house deems best.
Corn tortillas should be soft to juxtapose the filet's crispiness but strong enough to hold the heavily served taco.
Powers for a fish taco should always include lime, cabbage or coleslaw, pickled red onions, and salsas.But it's encouraged to experiment with dressings, mayo and different types of salsas.
Because of its free-spirited roots in the beaches of the Bajas, it is more acceptable to experiment with the fish taco's style of play.
El Berraco took advantage of this inefficiency the same way the Golden State Warriors did with the fastbreak 3-pointers in the NBA.
The fish was panko-fried crispier than in more traditional-minded tacos, but this adds extra layers of layer and texture.
Still, El Berraco is fundamentally sound even though it relies on playing with its own brand of taco. The tortilla was soft and endured the crispiness of the filet, without overpowering the other focal points of its strategy.
Balancing these two sides allowed the taco to simplify its salsas scheme and used non-traditional salsas for fish or shrimp tacos.
Twists on the pickled red onions, coleslaw and types of salsas were a clever gameplan to throw at the competition. But ultimately, Tacos del Rancho was prepared for everything.
Tacos del Rancho took a dominant division by storm as an upstart program. But its taco is true to the carne asada style.
With excellent execution in all three phases of the game, this carne asada taco was able to withstand every haymaker El Berraco threw at it.
The flour tortilla was buttery and soft to enhance the saltiness of the protein. And the carne asada contained an excellent balance of saltiness and juiciness, with notes of smokiness from the grill.
Tacos del Rancho has surprisingly hung its hat on the powers' side of the game for the second time in a row.
Overly great salsas are sometimes not needed on carne asada tacos, as they can be just good enough.
Unfortunately for El Berraco, Tacos del Rancho unleashed its excellent "salsa borracha" and full salsas playbook to overtake the North Conference with its juggernaut of a carne asada taco.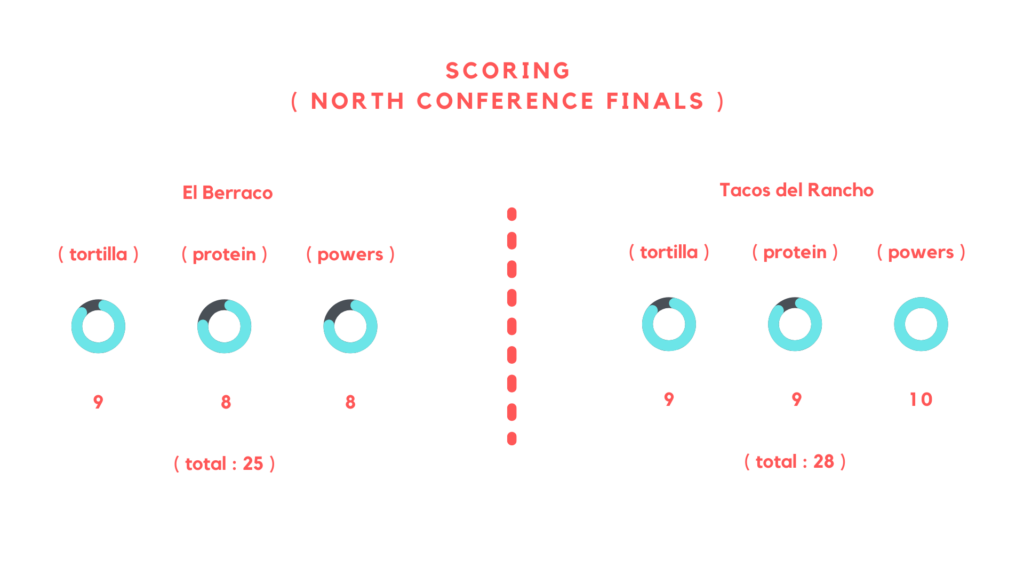 We were and are always apprehensive about admitting that sometimes conventional and classic styles of play can work in the modern era of sports.
Everyone is always looking to build the next futuristic team with an explosive offense, but we forget what the game is all about.
This carne asada taco from Tacos del Rancho showed us the importance of playing the game the right way. And it will need to be all hands on deck again if it wants to win it all in the finals.