By EMILY GASTELUM
Pima Post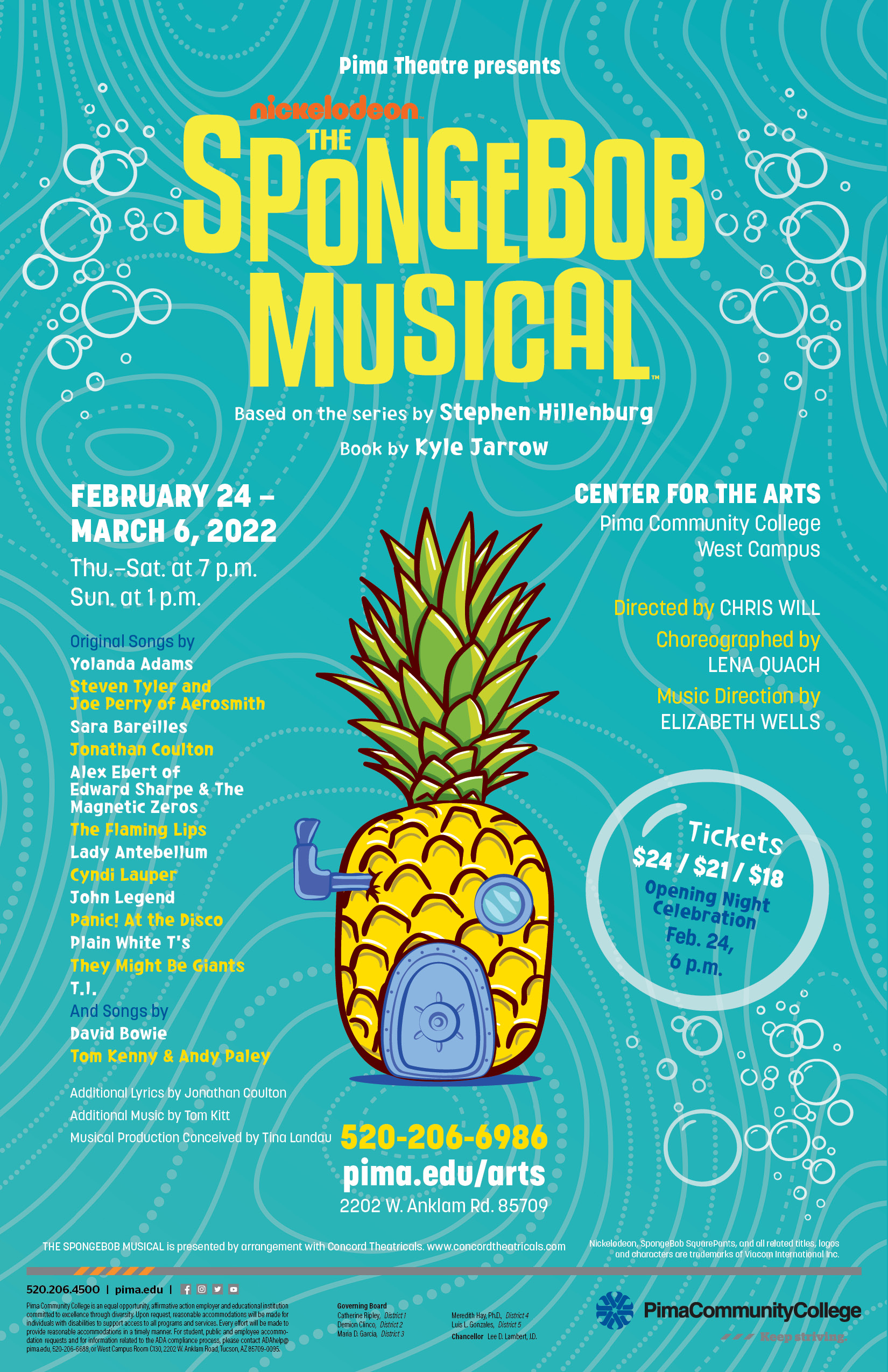 Things are about to get wet at the Center for the Arts.
"The Spongebob Musical" is coming to the Proscenium Theatre Feb. 24 to March 6.
Pima Community College Theater is excited to take its audience along on this journey with these classical sea friends. Spongebob and his friends would like you to join them in the adventure to their beloved hometown.
The adventure of a talking yellow sea sponge who lives under the sea in his town of Bikini Bottom will take his underwater friends on a new adventure. They will test their friendship and honesty to save their beloved hometown from a disaster.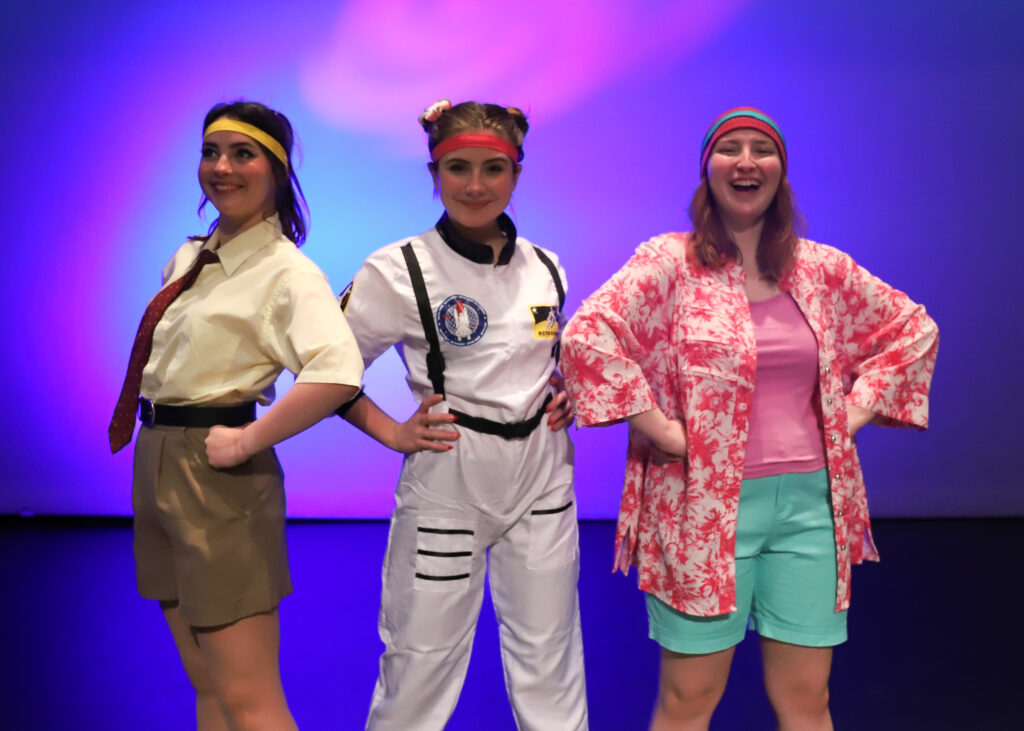 We recently spoke with Chris Will, the director of "The Spongebob Musical," about the upcoming show.
Q: What made you choose this musical?
A: "We made the decision to go through with this musical last year in a full-blown pandemic. At first, we didn't know how it would play off this semester with everything going on. In the beginning, it was a really good show because it was flexible casting because we didn't know who would be back on campus."
Q: What were people's reactions when you told them about doing "Spongebob"?
A: "I think the students were the ones that were so excited to hear this news because it is a cartoon that they grew up watching throughout their childhood. For me, I grew up watching 'Spongebob,' but I was in college when the first 'Spongebob' episode came out but the older cast and production team were like, 'Really, we are going to do "Spongebob?" ' but I would always tell them that it is so good you just have to give it a chance. And for many people, they might not like the cartoon version of 'Spongebob,' but I do wish that people would give this musical a chance because it is way better than the cartoon from its different elements."
Q: How are rehearsals going?
A: "… I have to say the rehearsal process has been the hardest with COVID because we would have a lot of actors out and it kind of got this new strain of, 'OK, I have COVID,' and then us saying 'See you in a week.' But thankfully, no one got too sick. And rehearsal started Jan. 3 of this semester and prior to that, we had only had two full rehearsals where everybody was called. But yes, it was difficult and hard but I think that after all of this we are in a good spot. To be honest, we have only lost about a week of rehearsal. And we are doing our best just how Theodore Roosevelt said, 'Do what you can, with what you have, where you are.' "
Q: Were any sea creatures harmed in the making of this musical?
A: "No, I don't think we harmed any sea creatures in the making of this musical. We were very conscious of recycling and reusing things so I think that we were very eco-friendly in this version of our show."
Q: Who is your favorite character and why?
A: "Ohhh, that's like asking who is your favorite kid. I mean I feel like I can always connect with Spongebob because I love his optimism and that's how I feel like I am as well. But really all characters bring such great traits to the community."
Q: Was this an easy show to cast?
A: "Yes, it was an easy show to cast because the author of the musical said 'Cast whoever you want for whatever roles,' so don't worry about gender, don't worry about culture, race, age, so on and so forth. Just cast the best actor in the role that is best to fit that actor. … They requested that they wanted to see a female Spongebob, which in this case we did cast a female Spongebob which is exciting. And also it was great that it was flexible casting because we didn't know who would be back on campus this spring semester as well."
Q: What challenges are you experiencing?
A: The No. 1 challenge for sure was COVID where sometimes people wouldn't be able to come to some rehearsals, but another thing that was challenging sometimes would be when we would have to rehearsals through Zoom. We would have our choreographers teach the routine through a screen, which was a good advantage, but it is not the same as if you were actually seeing it in real life and practicing with everybody around you."
Q: Did the cast spend time at aquariums to get into character?
A: "I don't think so much aquariums, but we did see a lot of videos of fishes. Even the ensemble got to pick their own fish and we would base their costumes off of the fish they chose so I don't think anybody went swimming with the fishes. We definitely did spend a lot of time kind of deciding what fish all the ensemble wanted to be. We did have a presentation night where everybody brought pictures of what fish they were going to be and why, which was such a funny but fun idea to do."
Q: What is the basic plot of this musical?
A: "We are introduced to the Bikini Bottom and we have an opening song to introduce all of the characters you already know. And as they are getting all settled in, they all feel an earthquake happen. It is because a volcano is going to erupt and destroy the Bikini Bottom, so basically they have to team up and make a plan to see how they can save (it). And of course, Plankton is wanting to scheme as he does. He comes up with a plan of making everybody leave the Bikini Bottom to Chunkville, but of course, Spongebob comes in and says no because they have to stay together to save their town. So, basically, the whole point of the plot is that yes, they are trying to save their town but the real conflict of the show is how the characters treat each other while they are solving how to save the town."
Q: How does this rank in productions you've led?
A: "Honestly, this musical has to be one of my top five musicals, matter of fact probably No. 1 in my list. Ask me once again opening night because in two weeks we are really going to start to put it together like all the lights, music, props, costumes, and with that everything might come together or not. But honestly, I feel like it is going to be a good one for sure."
Q: Did Samantha really soak up the role of Spongebob?
A: "Yeah, so Samantha is our Spongebob, and when I was putting the play together, I really wanted the actors to express themselves and not be locked into the specific character. Instead, I wanted the actors to have fun with the character and make it their own. With Samantha, she is doing an incredible job finding the style of Spongebob, but it is her interpretation of him. And it goes as well for all of the characters. They are doing a great job on taking the character and making it their own, which is amazing to see."
Q: Will Spongebob finally get his driver's license?
A: "He might, because he does get a big advancement in his life at the end of this show. This advancement in his life could maybe lead to getting a driver's license. I really haven't thought about that but possibly you would have to come and see what happens at the end of the show."