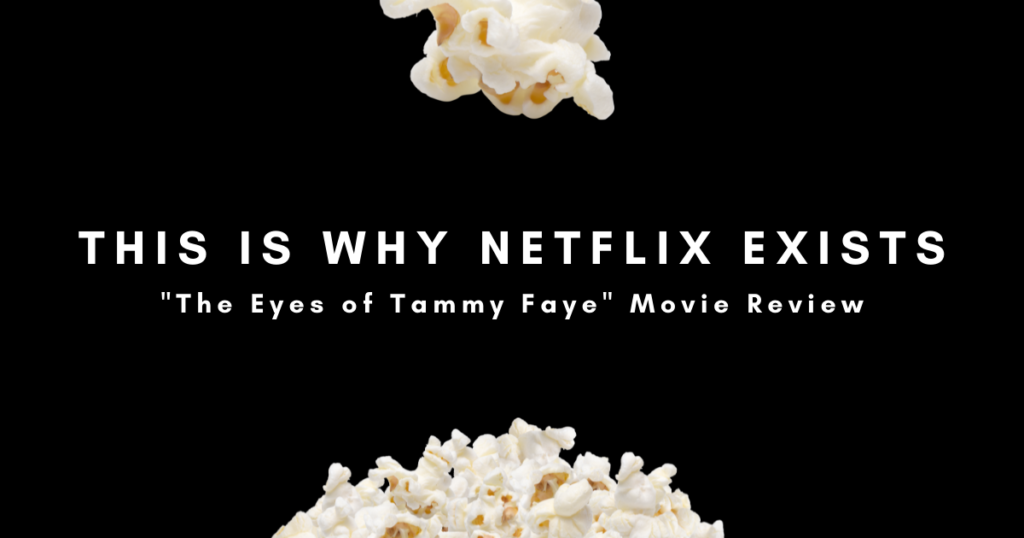 Story and image by JAVIER DOSAMANTES
Making a good biopic is one of the hardest things to pull off in filmmaking because you're trying to fit a person's whole life into a two-hour format. And at the same time, you want to approach the subject with a creative angle instead of just making a glamoured-up reenactment.
Without getting too technical, biopics are structured in two different ways: in chronological order (following life's events from beginning to end) or concentrating on a landmark event or time of a person's life, then using flashbacks to add context and backstory.
"The Eyes of Tammy Faye" opens with a scene in 1994, then jumps back to Faye's childhood and follows the events in chronological order. And when this structure is used, the movie needs to stop and explore pivotal moments to make the story richer and more interesting.
The story of Faye and her then husband, Jim Bakker, is bonkers, and this film failed to approach it with a creative angle and never explored the most important events. Instead, it focused on Jessica Chastain's portrayal of Faye.
Chastain has been nominated in recent years for two Oscars: Best Supporting Actress in "The Help" and a Best Actress in a Leading Role for "Zero Dark Thirty." And when she produced this movie, there's no doubt she knew it would be Oscar bait.
Her performance is incredible, and so is Andrew Garfield's as Bakker. Both thespians embodied their subjects with precision — the emotions are displayed with nuance and the personalities are cartoonish and over the top.
However, the movie fails to explore the most fascinating events of the televangelists' lives.
Bakker's financial and sexual scandals are heinous, and Faye's work as an advocate for the LGBTQ+ community and AIDs patients is remarkable.
But the movie merely glosses over these important details to instead focus on the celebrities' rise and fall.
The directing, acting and overall production of the movie are top-notch. But I came away wishing this was a Netflix or HBO show, a 10-plus hour format in which we could spend more time exploring the characters and the arc of Faye and Bakker.
"The Eyes of Tammy Faye" is an OK movie with wildly ineffective storytelling in large part because of its limiting format. But it is effective as an introduction into an unbelievable tale of greed, compassion and cultural impact.
I recommend people to look more into this story. The documentary of the same name — which the film is based on — is the most thorough look into the Faye and Bakker story.