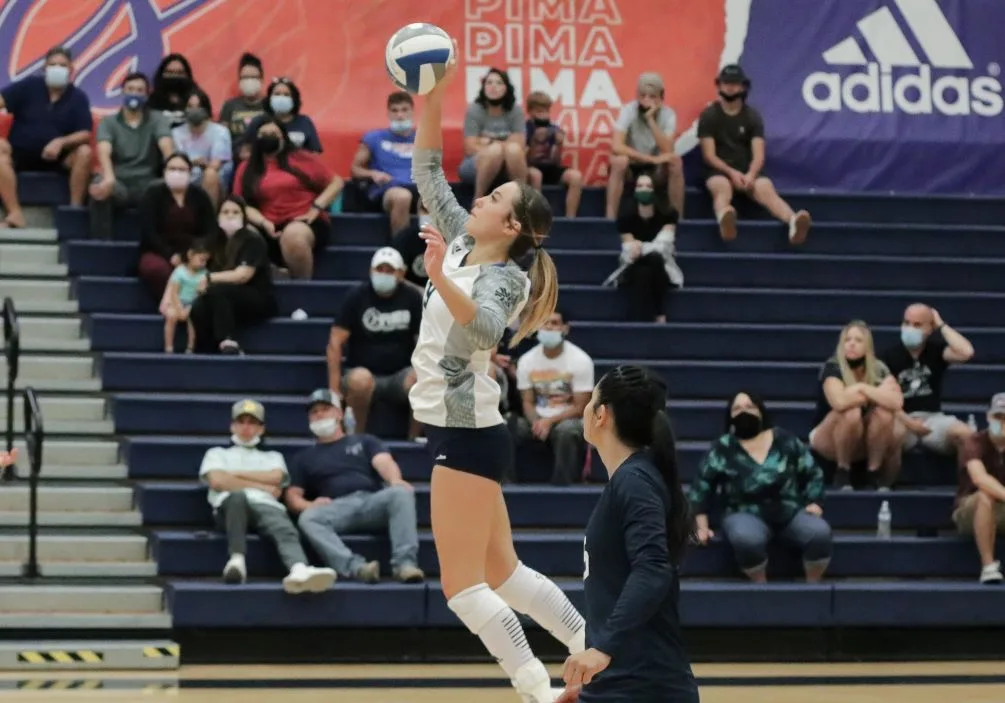 Photo courtesy of Pima College Athletics
Pima Community College outside hitter Jessica Bright-Schade has accrued over 70 kills and nearly 100 digs.
By Nate Martinez
Pima's volleyball team did not have an easy schedule last season, but outside hitter Jessica Bright-Schade and the Aztecs made history by advancing to their first national tournament.
Due to COVID, it was difficult to find ACCAC teams that could play regular season games, leaving Pima with a slate of NJCAA Division I competition.
Despite the elevated level of competition, the Aztecs, who compete in Division II, were able to secure a spot in the NJCAA tournament in April.
The team lost to Grand Rapids Community College in the consolation rounds, but given the circumstances, the run was amazing.
This year, the Aztecs opened against another Division I opponent, making the 2021-22 squad the only one in program history to finish its season in the national tournament and open the next season against a Division I team.
The Aztecs currently are 6-5 overall and 3-1 in ACCAC play.
Bright-Schade, a Pima sophomore from Safford High School, is almost in disbelief of her team's accomplishment last season.
"It was exciting because when we got there (to nationals)," she said. "We didn't really know we were the first team ever to make it there. It was a really big deal. All the other sports teams were super congratulating of us, so it was really awesome to be a part of that."
Besides the added pressure of opening up the season against a Division I opponent, Bright-Schade and her team understood that they must treat every game as if it's business as usual.
"We like to push aside whether they're D1 or D2 and just focus on how we know how to play the game," she said. "We know our game, and we don't let those nerves get the best of us."
Bright-Schade, who is one of Pima's leaders in kills (71) and digs (96), began her volleyball career at the age of 10 years old, watching her mother play in a recreational adult league in Safford.
"Ever since then I've found a passion for the game," she said.
Bright-Schade started playing in tournaments and carried that passion into her high school career, playing on the varsity team since she was a freshman. She didn't play that much her first year, but says she learned many things from her upper-class teammates at Safford.
"I looked up to every upperclassman and wanted to be just like them," she said. "That pushed me to work harder as an athlete in every aspect I could."
Bright-Schade also credits her coach at Safford, Robert Abalos, for teaching her about the sport — lessons that she still uses at Pima to this day.
"He always told me to play with a purpose, every serve, dig or hit, do it with a purpose and mindfulness of exactly where you want that ball to go," she said. "I think this has helped me tremendously here at Pima to succeed out on the court."
The sophomore hitter said she loves her teammates and coaches at Pima, giving them high praise for being uplifting and reassuring. She also enjoys playing for head coach Dan Bithell and assistant Elden Haymore because they always offer insight for players to improve.
Not very many athletes choose to play two sports when they get to college, but Bright-Schade also has chosen to participate in track and field for the Aztecs.
"Last year it was a lot more difficult because of COVID, so our seasons were at the exact same time," she said. "I had to give it all I got in there (volleyball), wait until the season was over and from there go into track. It was really hard transitioning because I had only a week, and then we went to regionals for track.
"It was very hard but I was super grateful for the chance to go out in regionals and score points for my team. This year I'm even more excited because I get to have both full seasons."
Once her career at Pima is complete, Bright-Schade wants to continue playing volleyball at a four-year university. Until then, she and her team are solely focused on making it back to nationals.
"Our goal of this season is to pick off right where we ended and get better to make it back to nationals," she said.