2nd-year aviation student, Suzanne Roy shares how her decision to enroll at Pima has secured her a brighter future
By KANIKA SAMRA
Pima Community College External Relations
Suzanne Roy, Suzi to peers and faculty, is a second-year student at Pima's Aviation Technology Center. She will graduate next summer with an Associate of Applied Science degree (AAS) in Aviation Technology. Suzi's enthusiasm and passion for all things aviation is instantly noticeable and works like a magnet. If you aren't already curious about what makes a plane fly or the work that goes into maintaining one, a conversation with her will change that.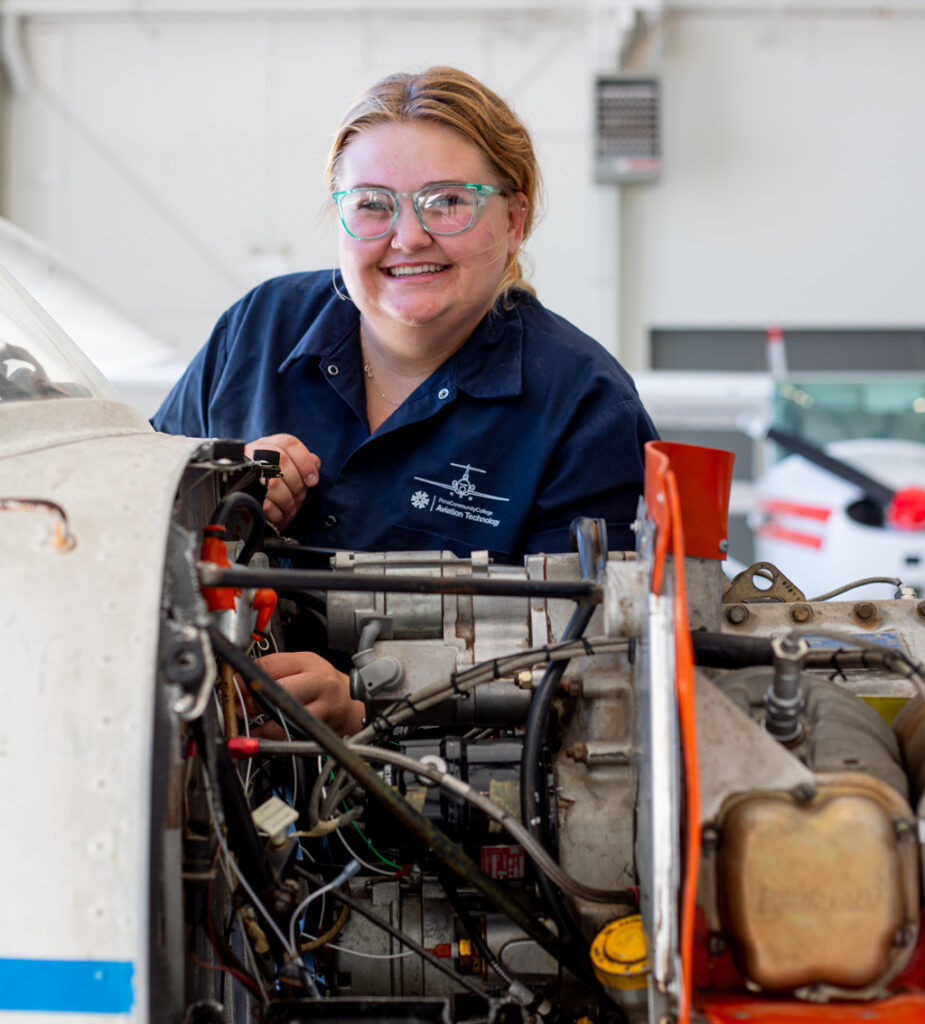 According to Suzi that is part of the magic of studying at Pima's Aviation Technology Center; the faculty and staff carry their passion on their sleeves. Citing as examples, she shares how Jason Browerstock, Director and Yvette Rodriguez, Program Advisor, rally behind their students from encouraging them to apply to scholarships to organizing numerous industry interactions and interviews. So successful have they been that with a year to go Suzi is already in talks with a national carrier for an apprenticeship position that will put her on the fast track for a job.
The Bureau of Labor Statistics projects steady job growth with approximately 13,000 annual job openings for aviation and avionics technicians and mechanics until 2031. As the travel industry recovers from pandemic furloughs, graduates like Suzi are in high demand.
As successful as she is, aviation wasn't Suzi's first choice. She initially enrolled at Pima as a vocal performance major. But as the pandemic dragged on and in-person activities shut down – critical for a performing artist –she reassessed her professional goals. She didn't have to look far. Aviation has been in her family for generations. Her grandmother received her pilot's license in 1964 and flew recreationally while her husband (Suzi's grandfather) was an Air Force pilot; Suzi's brother is an airframe and powerplant mechanic in the military, and a cousin is a pilot. Wishing for a stable schedule with the possibility of someday working with an overseas carrier, Suzi found her way to Pima's Aviation Technology Center. With a majority of the prerequisites already complete, she was able to jump straight into learning about aviation. Moving away from the arts has given her some perspective and she hopes to continue singing as a hobbyist.
For now, Suzi is the de facto cheerleader of Aviation. As a recent Federal Work Study (FWS) student, she managed social media for the Center, facilitated information sessions for prospective students, helped with the JTED program – a fully funded opportunity for high school sophomores to earn a mechanic certificate – and organized a weekly food truck on campus which is located adjacent to the Tucson International Airport and lacks a cafeteria. Yvette's consistent push and encouragement meant that in Fall 2022 Suzi received enough scholarship funding that she no longer qualified to continue working under FWS. Yvette's persistence has helped numerous other students. For the 2021-22 academic year, aviation students received a total of $180,098 in scholarships!
A lot is changing this week with the inauguration of a new hangar and facilities. The Center will be able to double enrollment, alleviate long waitlists and add a night program from Spring 2023. Students will get access to new classrooms, lounge and study areas, staff will finally have dedicated offices, and there will be a place to eat in comfort escaping the searing desert heat. There are plans to roll out new non-destructive testing and drone programs in Fall 2023.
I went from a field where I had to fight for every possible audition to something where I'm valued, people want me, and I get to kind of have my pick of where I want to go.

Suzanne Roy
For Suzi, entering the program has meant certainty in her professional prospects. "I went from a field where I had to fight for every possible audition to something where I'm valued, people want me, and I get to kind of have my pick of where I want to go," she says. She is emphatic about the value of an AAS in Aviation Technology, "This program works. I want prospective students to know that when they come in here, they're not wasting their time, they're coming to school, they're learning, and in 18 months they're going to have a job waiting in their hands."
Suzi is hopeful about the future. In addition to equipping her with professional skills, the work ethic at Aviation has made her, "a self-starter, and influenced me in a way that is kind of intangible", she said. "I'm much more resourceful than I think I used to be, and more determined and just a better person all around," is how she summarizes the impact of her Pima education.
Pursue a career in Aviation
Pima's Aviation Technology Program is poised to expand to meet the skyrocketing job growth in Southern Arizona's aviation industry. Explore Aviation programs today and secure your future!