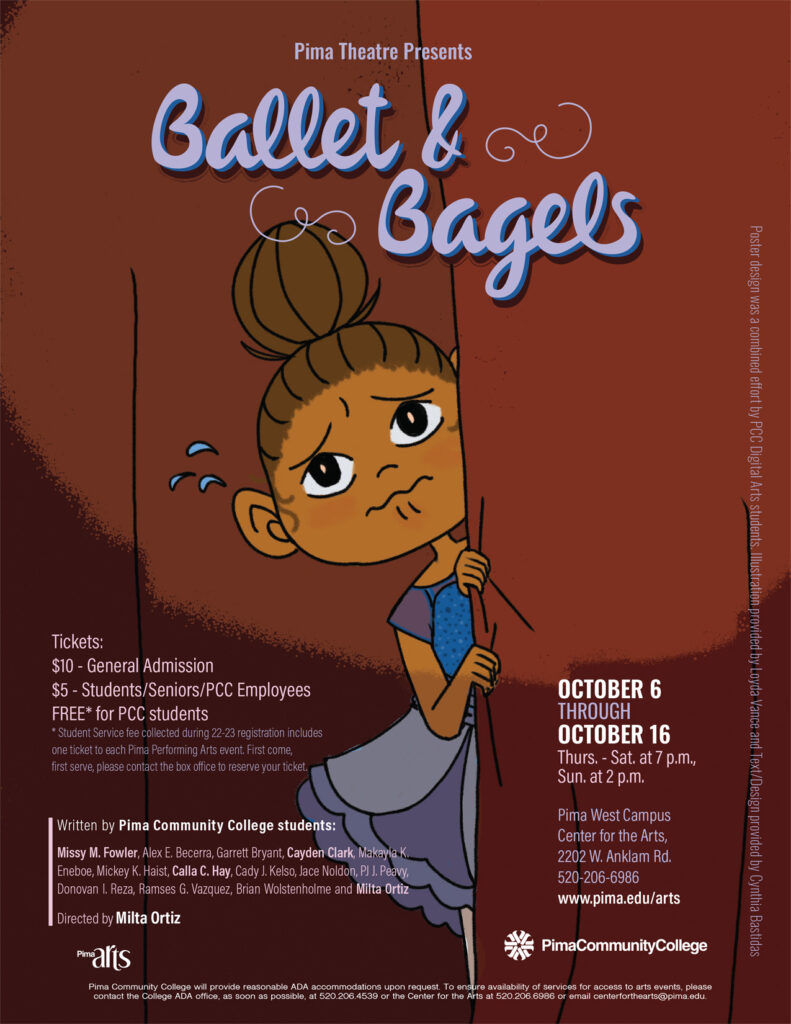 By QUENTIN S. AGNELLO
Pima Post
Theater arts can have a tendency to be overly complicated and dramatic. Even modern plays have similar aspects of Shakespearean classics, which can make it difficult to get kids interested. So, it's nice to see a change of pace from the Pima Center for the Arts.
"Ballet & Bagels" is a play written by Pima Community College students in a class called Principles of Dramatic Structure. It's a heartwarming story about a young Latin American girl, Ariana, who finds her voice and pursues her dream. It is classified as Theatre for Young Audiences (TYA).
According to adjunct instructor and director Milta Ortiz, Missy M. Fowler is considered the lead writer. She dedicated her summer to rewriting and restructuring the story, which was a worthwhile accomplishment because she was under no obligation to do so.
The play, which will appear in the Black Box Theatre, has an emphasis on social acceptance in general. With a cast of 13 people, The representation of BIPOC (Black, Indigenous and People of Color) is well rounded.
This is a goal stated by the director. "I realize that there are a lot of Latinx kids here in Tucson and I don't think they see themselves represented enough in theatre. I think TYA is more aware of that."
Every aspect of the production, down to the paint and set design, was done by students at Pima. The director praised the cast and crew's cooperation, noting how they got along even when conflict was possible.
"In the audition, they automatically worked together instead of competing," Ortiz said. "Which is why we had to add two characters."
That aspect of working together instead of competing is ingrained into the writing of the play. The main story of Arianna and her friends, with a subplot of the Bagel Boys versus the Bagel Bros as a juxtaposition, keeps the story engaging with some conflict. However, each plot culminates to the same idea of working together for a better whole instead of competing for the position of best.
Overall, this is a play with a lot of heart. It has a compelling plot to keep you in your seat and musical pieces that will have you bouncing out of it.
From Ortiz's own words, "It's a feel good, have fun, dance in your seat experience. We're inviting people to hoot and holler throughout the show. It's definitely a family event."