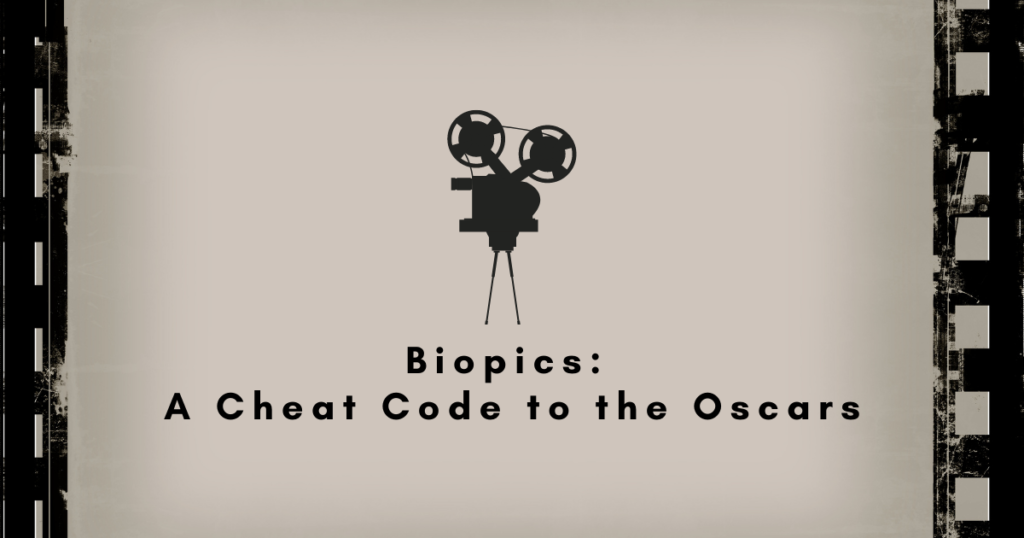 By JAVIER DOSAMANTES
Pima Post
When the Oscar season began this past fall and the perceived contenders were released, I noticed an uptick in high-profile biopics this year.
Four of the movies with odds-favorite candidates in the acting categories were released within three weeks of each other, with just a few days in between releases.
Last month, it was announced that Daniel Radcliffe will play "Weird Al" Yankovic in an upcoming biopic.
A slew of new biopics have taken over Hollywood in a seemingly new trend.
The problem with writing an article about how biopics are a new trend is that it has been written seemingly every year.
Biopics are biographical movies about historical, famous or public figures. But many also are made about lesser-known people with interesting stories.
Instead of doing another deep dive into the number of biopics released each year (a large amount), let's take a look at why there are so many and why they're being released with higher frequency.
The reasons are simple: They're easy to make, and they are an almost-guaranteed Oscar nomination — which often results in a win.
In terms of writing and structuring a film, biopics are half-finished products. The only things left to do are cast A-list thespians looking for an Oscar and sprinkle that good ol' movie magic on the story for dramatization.
Putting together the right mix of ingredients isn't always easy. And even if you know what ingredients to buy, that does not make you a chef (i.e. the ridiculed 2020 David Bowie biopic "Stardust").
Because of the pandemic, many projects were canceled or postponed in 2020. Consequently, the February 2021 Oscars couldn't reflect the whole slate of movies that would've been award hopefuls.
However, the 2022 ceremony hopefully will be a different story and many in Hollywood prepared accordingly, including several actors looking for Oscar recognition.
Will Smith, for example, is the odds-favorite actor to win the Best Actor award for his role as Richard Williams in "King Richard" — a movie he produced.
Jessica Chastain also took matters into her own hands and produced "The Eyes of Tammy Faye," where she plays Tammy Faye.
Their logic and gameplan are solid and calculated, even bad movies such as "Bohemian Rhapsody" in 2018 was nominated for five Oscars and won one for Rami Malek for Best Actor in a Leading Role.
Like the NBA, in addition to the "eye test" for talent, teams are built based on analytics and data. And movies are made the same way, with the same goals in mind — making money and winning awards.
Winning an Oscar is the show business version of winning the Super Bowl or an MVP award, which is why studios and actors want to build contending movies.
We looked back at how biopics fared in the past seven years of the pre-pandemic Oscars "Big Five" awards, plus the Supporting Actor and Actress awards.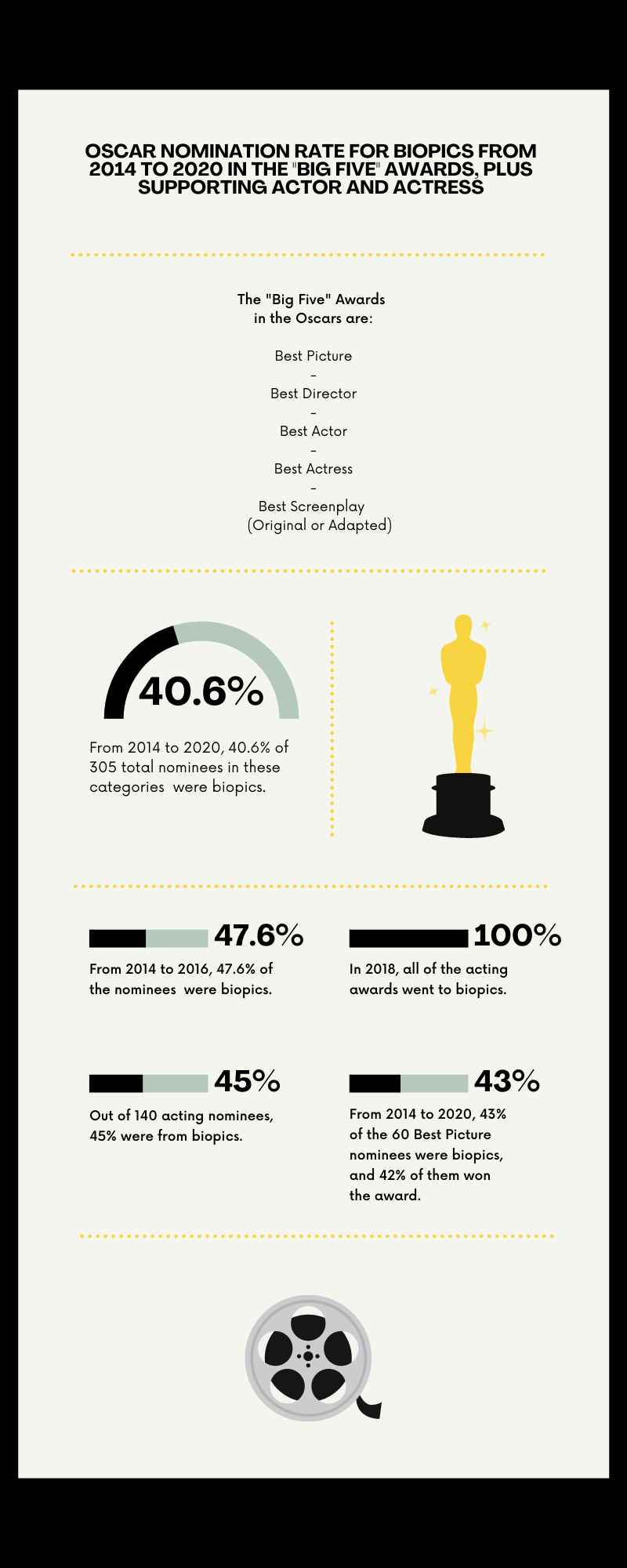 We could keep going back into the past or the future, but it's an endless loop of the same award nomination rates for biopics.
Two award ceremonies that are indicators of how the Oscar nominations will play out are the SAG Awards (Screen Actors Guild Awards) and the Golden Globes.
A breakdown of the 2022 "Motion Picture" categories for both awards show that 45% of the nominees for the major acting categories at the SAG Awards are from biopics. And 3 of the 6 acting awards from the Golden Globes were won by biopics.
The nominations for the 2022 Oscars will be announced on Feb. 8, but if we judge by past indicators and unofficial betting odds, it's clear that biopics will perform at their average numbers.
However, the frequency at which high-profile biopics are being released and future ones are being announced feels higher than usual.
We don't even know the nominees for this year's Oscars; yet these future projects already are creating commotion in future Oscars conversation: "Elvis," "She Said," "Bernstein, untitled Bob Dylan and Boy George projects, "Roosevelt," etc.
The increased access to news and information may have something to do with this illusion. In past decades, we weren't bombarded with the newest "buzz" every minute, and nowadays part of marketing campaigns' strategies is leaking news bits about movies.
Another explanation that legendary auteur Martin Scorsese won't like is that biopics may have started getting the Marvel movie treatment.
Scorsese has directed some of the most iconic biopics ("Raging Bull" and "Goodfellas," for example). But he has railed against Marvel movies, declaring "they're not cinema."
I won't get into that debate, but if we cynically look at movies as products (they are), we can see the genius in the Marvel franchises.
With all of the data that studios have at their disposal, they put together movies people want to see — and the more people consume them — the more they'll make from the same mold.
Hollywood studios used to produce biopics based on the Oscar nomination data; because many biopics flopped in the box office. But awards recognition bumped up the studios' and artists' value in revenue, salary and intellectual properties.
Now enter streaming services. Netflix, Amazon and HBO Max have biopics in contention for this year, and producers can have access to data on how their movies perform on streaming platforms — if a lot of people watch biopics on Netflix, future projects that are similar will have a higher value.
Accordingly, studios will make a lot more biopics and more money; and we'll have to watch a lot more biopics released at a faster rate — like Marvel movies.