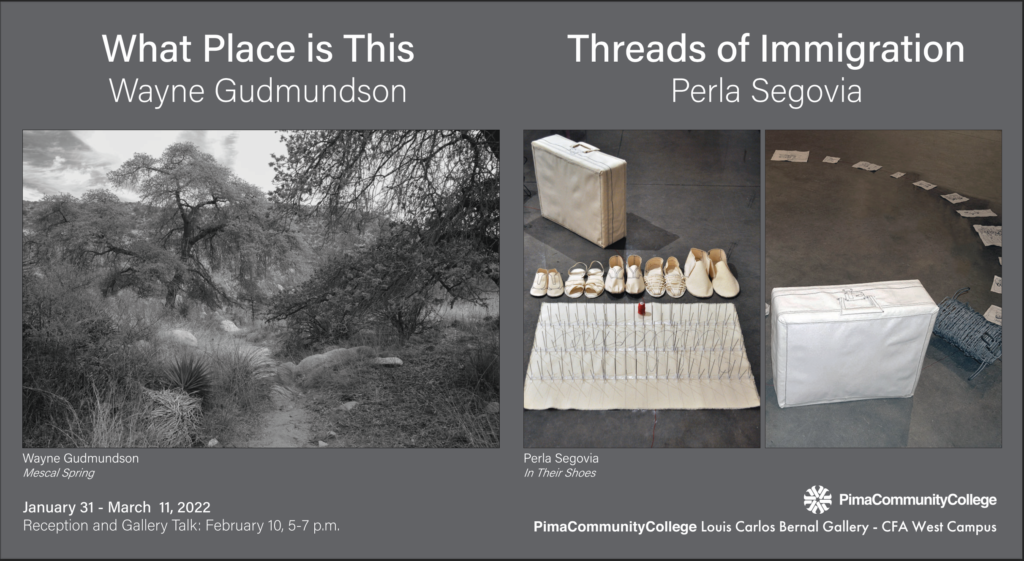 By ALEX JIMENEZ
Pima Post
Pima Community College will be hosting a free art exhibit at the Louis Carlos Bernal Gallery on West Campus Jan. 31-March 11.
The reception will be held from 5 to 7 p.m. Feb. 10.
On display at the art exhibit will be Wayne Gudmundson's "What Place is This" and Perla Segovia's "Threads of Immigration."
Gudmundson is a photographer who was born in Fargo, North Dakota, in 1949. Gudmundson's photography has been exhibited in institutions such as the Museum of Modern Art and the Center for Creative Photography.
Gudmundson's exhibit consists of eye-catching black-and-white photos covering the area in and around Tucson.
One of the goals of "What Place is This" is to reflect on what once was a contested ground resulting in historic battles, border rifts and murder of specific groups of people (Native American, Mexican, Spanish).
Gudmundson teamed up with historian Dieter Berninger to help remind readers "the past is never really the past."
Segovia is a textile artist who was born in Lima, Peru, and spent her early childhood years there before moving to the United States at age 10. She returned to Peru to be a handbag and shoe designer after graduating. After relocating a few more times, Segovia ended up here in Tucson, where she lives today.
Segovia's artistic mission is to make work about marginalized people and communities to bring awareness.
"The work in this exhibition honors the memory of immigrants and celebrates their strengths and
perseverance," said Segovia in her artist statement. "It brings attention to the necessity of providing humanitarian relief with dignity and respect to asylum seekers."