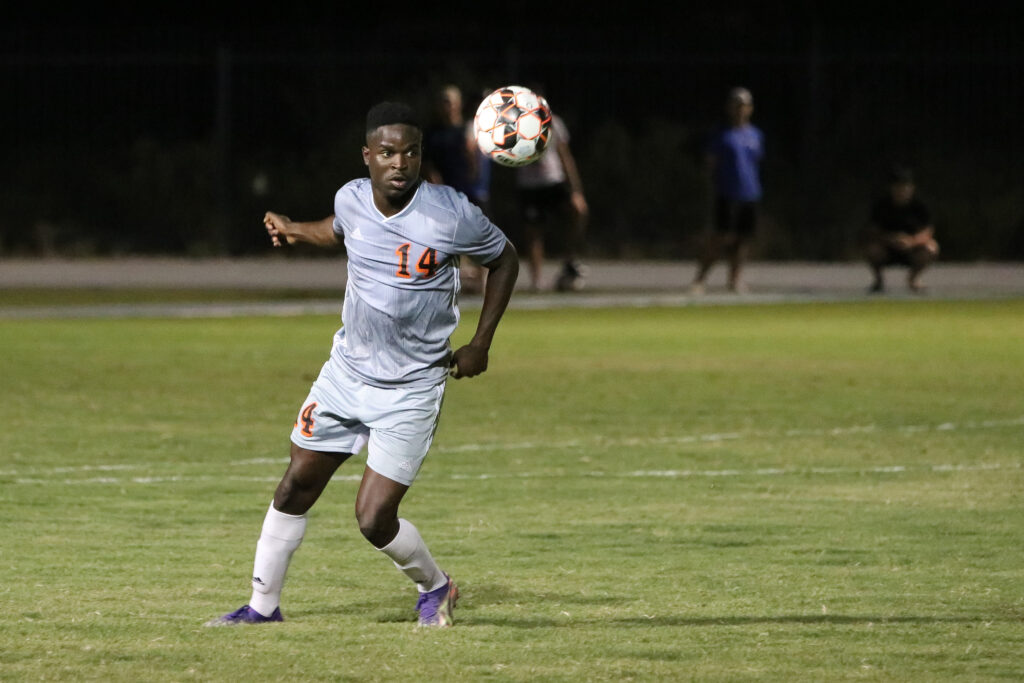 By ALEX JIMENEZ
Pima Post
Pima Community College men's soccer team will play in a big conference game and the last regular season game of the year against Arizona Western at Aztec Soccer Field at 7 p.m. Saturday.
Both teams are at the top of the Arizona Community College Athletic Conference with a record of 14-0, 8-0 ACCAC for No. 1 Pima College and 16-0, 8-0 ACCAC for No. 6 Arizona Western. A win for either team would secure the top spot in ACCAC.
The Aztecs will enjoy a weeklong break between games, having gone into overtime in three of its last four games.
PCC's last game was against Paradise Valley Community College on Oct. 16, and the Aztecs won by a score of 1-0 in overtime. After a hardfought 100-plus minutes, Brian Vu found the back of the net yet again in the 104th minute to keep the undefeated streak alive.
"I feel great about my performance," Vu said. "It's really improved right away from last season. The team's performance is what matters most to me, though. As long as we're all fighting to get the result that's most important, nobody can do it alone. We'll need everyone for Arizona Western."
Arizona Western has recruited 26 of its 33 rostered players from outside of the United States. Their international success might be helped by the school's on-campus housing.
Pima and Arizona Western have had many close games in recent years, being two of the top and most consistent men's soccer programs in the ACCAC.
In the 2019-2020 season, Pima beat AW 2-0 in the regular season, but in the Region I Division I Final, Arizona Western got its revenge beating Pima in penalties after a scoreless double overtime game.
Since then, the two schools matched up once more in the 2020-2021 season, when Pima won 2-1 thanks to first half goals by Rincon High School graduates Zak Mohamed and Brian Vu.
A win Saturday would give Pima the No. 1 seed going into the Region I Division II tournament where a trip to the NJCAA Men's Soccer Championship in Wichita, Kansas, is up for grabs.
Pima wants to give itself an opportunity to make up for last season's loss in the national semifinals and reach the success of 2018-2019's national championship run, and Arizona Western is the next obstacle in the way.
"We just have to take it game by game at this point," Vu said. "Every game from now on will be like a final."